Deadlocks & Deadbolts - Lock Smith services Canberra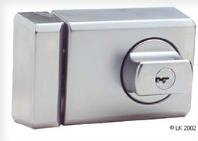 The Whitco range of deadlatches are a tried and tested product that have rivalled the Lockwood 001 for many years. ·
Unique safety release feature, on key entry the inside knob unlocks automatically
Suitable for inward opening, timber frame door
Safety release feature on key entry the inside knob unlocks automatically
Key locks or unlocks inside knob
Opened by knob inside when unlocked or by key from outside
Latch holdback feature; turn the knob 100 degrees clockwise, the knob is lockable in this position
Body dimensions 97mm (W) x 73mm (H) x 49mm (D)
Case made of high purity zinc alloy
60mm backset
Bolt made of stainless steel with a 18mm bolt projection
Suitable for door thickness of 28mm – 45mm
5 pin cylinders both inside and outside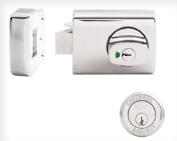 The benchmark of all deadlatches. This model of 001 is designed to be used on timber door jambs.
Features include:
Suitable for inward opening timber frame applications
Unique safety release feature, on key entry the inside knob unlocks automatically
Locked/unlocked indicator on the inside knob
Key locks or unlocks inside knob
Opened by knob inside when unlocked or by key from outside
Latch holdback feature; turn the knob 100 degrees clockwise, the knob is lockable in this position
Body dimensions 97mm (W) x 73mm (H) x 49mm (D)
Case made of high purity zinc alloy
60mm backset
Bolt made of stainless steel with a 18mm bolt projection
Suitable for door thickness of 28mm – 45mm
5 pin cylinders both inside and outside, on the KeyLine LKW5 (Silca LW4) profile
Finishes available include satin chrome, chrome plate, brown and ever brass
355 Double Cylinder Deadlock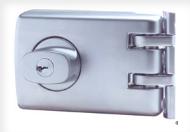 Suitable for hinged or sliding doors, the 355 double cylinder deadlock features a lockable turnknob with a inbuilt clutching device to resist wrench attack.
Features include:
A strong interlocking turn knob case and mounting plate to resist jemmy attack
Concealed fixing·
Positive deadlocking action
Internal turn lockable/unlockable by key
Locked either by key from outside or by internal turn when free
Body dimensions 121mm (W) x 76mm (H) x 56mm (T)
Thick walled, high purity, zinc alloy case
60mm backset
Solid steel bolt and solid steel boot leg
Suitable for door thickness of 30mm – 45mm
5 pin cylinders both inside and outside, on the Keyline LKW5 (Silca LW4) profile
Sold in finishes of satin chrome, chrome plate, brown and ever brass
Lockwood Digital 001 Touch Deadlatch

For 30 years Lockwood's iconic 001 has been securing homes in Australia. The 001 as we know it today has now become digital. As with the original product, the 001Touch uses the 001 Deadlatch to secure the door internally however, the external cylinder has been replaced with a stylish digital touch screen keypad. The ability to use a pin code or key card offers a convenient keyless solution.
Features include:
The touch screen keypad has no mechanical buttons which means no trace of your secret pin code.
Choose a pin code from 4 – 12 digits, this could be ideal for children or occupants that lose keys on a regular basis.
Program up to 20 Key cards into your lock and have the ability to remove them individually.
You have the option to lock the 001Touch with the internal key, the key card and pin number automatically unlocks upon entry. This safety release function minimises the chance being locked inside your house.
Unlock your door up to 10,000 times with one set of 4 x AA batteries. We recommend the batteries are changed every 12 months regardless.
The Keypad is designed to withstand most weather conditions.
You have the ability to program a code that may last from 3 – 336 hours. This is ideal when a tradesman requires access to your house for a few hours or when your neighbour is looking after your home for up to 2 weeks and the duration you would like it to last.
Prevent others from identifying your pin code during access, the cryptic code function confuses the onlooker but at the same time allows you to still gain entry.
The settings, codes and key cards will remain programmed in the lock in the event the batteries are depleted.
Once the correct code or key card is presented, the lock will remain unlocked for 5 seconds and will lock automatically when the 5 seconds expire.
Carbine Double Cyl Deadbolt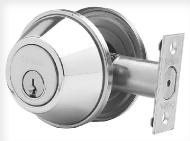 The Carbine ALB series of double cylinder deadbolts offer a complete package of security, flexibility and spare parts if needed. The feature of the ALB series is its superior bolt mechanism.
Features include:
TConcealed fixing
Removable brass 6 pin PD style cylinder (keyed to a 5 or 6 pin key)
Fully rekeyable to either simple keying alike or master keying
Able to accept a wide range of restricted barrels
Has a rose diameter of 65mm without the rosette or 70mm with the rosette supplied
Made to fit doors with a thickness between 35mm – 45mm
Supplied with two spacing rings per lock to accommodate thinner doors
Finishes available include stainless steel, antique bronze, polished brass, chrome plate and antique brass